Creative Productions and the University of Southern California Launch an all-new Event App for Trojan Family Weekend
October 29, 2013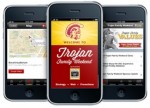 FOR IMMEDIATE RELEASE
Alumni-Led Local Agency Brings Technology to this Year's Highly Anticipated Event
LOS ANGELES, Calif., — October 18, 2013 — Creative Productions, an integrated marketing agency, and the University of Southern California Office for Parent Programs launched the first-ever mobile app for Trojan Family Weekend, October 24-27.
This custom event app will provide Trojan family members with a useful tool that not only simplifies communication, but also enhances the experience of participants throughout the annual Trojan Family Weekend event. The app brings a technological side to this highly anticipated weekend of activities by making campus navigation quick and easy, while also providing real-time event updates, news highlights and personalized scheduling options.
The Trojan Family Weekend App is equipped with smart and useful features that allow app users to access the information they need, when they need it. In addition to providing users with news highlights, sponsorship highlights and information for all events and activities, the app also allows users to "favorite" events to create their own customized schedule for quick reference throughout the weekend. Other features include the integration of Twitter into its news feed to bring participants the most updated announcements directly from USC's Office for Parent Programs' Twitter page, as well as the integration of Google Maps to give users a tool to locate buildings and parking facilities throughout campus with ease.
"Being an alumna of USC, and the parent of a USC senior, this app truly provides members of the Trojan family with the tools to navigate through this busy and exciting weekend," stated Deborah Golian Castro, President and CEO of Creative Productions. "The Trojan Family Weekend App keeps all the information you need right in the palm of your hand."
This year the theme for Trojan Family Weekend is "Trojan Family Values," planned by the Office for Parent Programs. More than 2,600 parents and family members participate in Trojan Family Weekend each year. This is a special time for students to share with their parents the magic that is USC. Family members are encouraged to explore the campus by attending thought-provoking lectures, seeing an exhibit or meeting some of USC's exceptional faculty.
"We truly appreciate Creative Productions and the work they have done for us as a sponsor and developer of this app. We had a big vision and now it has become a reality—it demonstrates how Trojans support Trojans to make things happen," commented Tina Orkin, Associate Director for the Office for Parent Programs. "The app will definitely increase participant satisfaction by providing access to updated information on their smart phones," added Beth Saul, Assistant Dean for Student Affairs and Director for Fraternity and Sorority Leadership and Parent Programs. "We believe this is one of the first apps of its kind for an event like ours, and we are pleased to lead the way with an app that supports our goals for the program."
Creative Productions is an award-winning integrated marketing and promotions agency that leverages strategy, creative and technology to build brands, engage customers, and drive sales. The agency delivers measurable results for a variety of programs including enterprise-level and e-commerce websites, email marketing, targeted advertising and large-scale promotions for clients including Toyota Motor Sales U.S.A., Inc., Metrolink (Southern California Regional Rail Authority), Goodwill SOLAC, and USC Sports Properties along with clients in entertainment, energy, and health care sectors. For more information, visit www.creativeproductions.com
Contact Information:
Sarah Soss, Public Relations Contact
Creative Productions
4510 E. Pacific Coast Hwy, Suite 500, Long Beach, CA 90804
562-985-1363
Contact: ssoss@creativeproductions.com
##