Toyota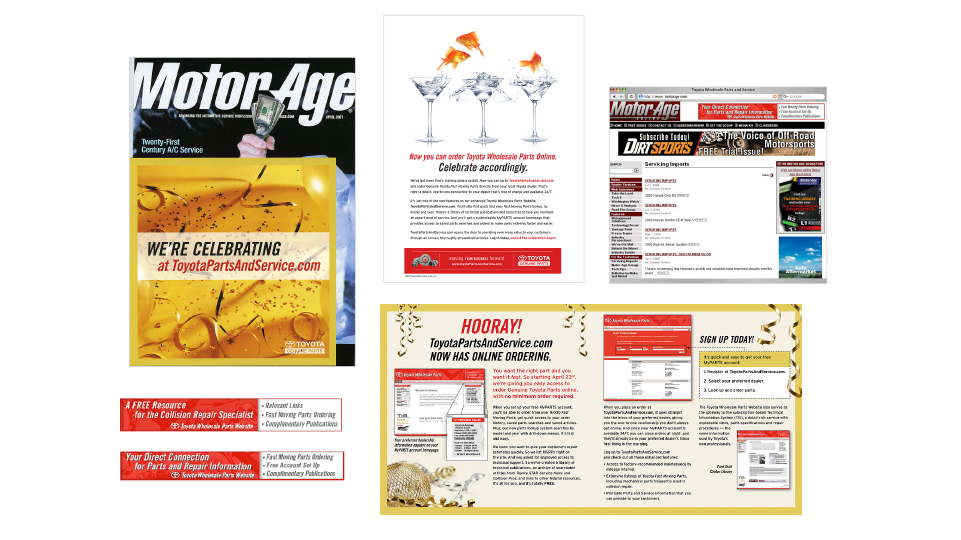 Creative Productions helped the client evolve its brand and provide an end-to-end solution from strategy to research to advertising and software development for parts ordering, search and resources. It's a holistic approach to client planning and implementation that netted big results for Toyota in the B2B arena.
Toyota (prior client) project services performed between 2001-2016.

Toyota Motor Sales, USA, Inc. – Toyota Wholesale Parts Website Launch Advertising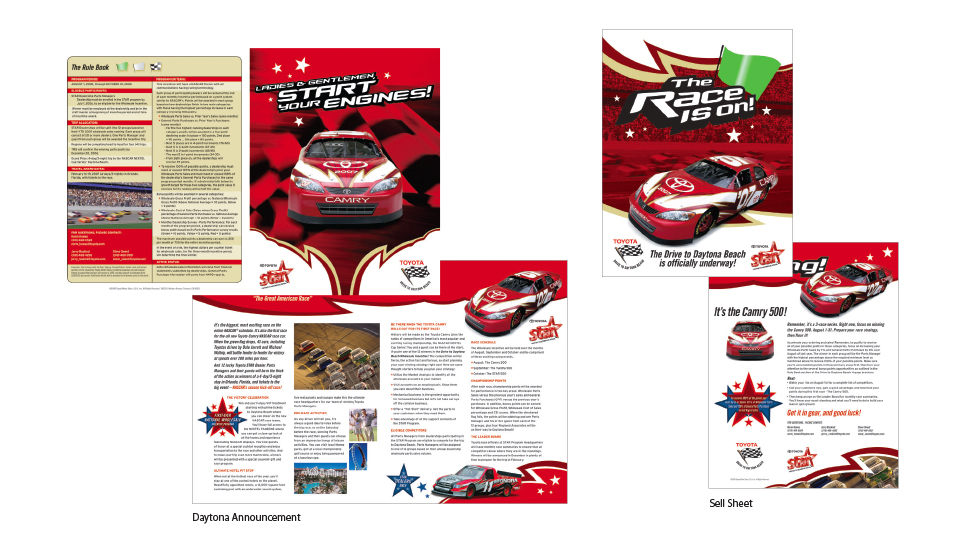 Creative Productions (CP) designed the Drive to Daytona incentive promotion including launch materials and planning for the incentive trip that rewarded top dealers for parts sales. Over a three-month period, dealers competed in their own "race" to sell more and win a trip for two to the Daytona 500, including special passes, events and entertainment. CP managed all on-site event activities, hotel and transportation for dealers, guests and corporate executives on and off the track.
Toyota Motor Sales, USA, Inc. - Drive to Daytona Beach STAR Dealer Incentive Promotion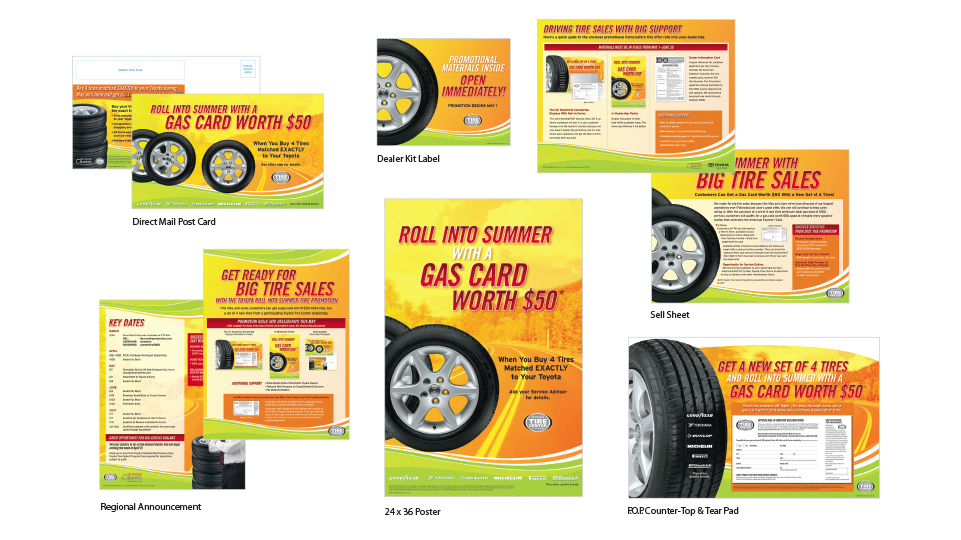 This program was designed to combine offline point of purchase materials and online web initiatives to drive customers to the dealership for Express Lube and Express Lube PLUS service.
Toyota Motor Sales, USA, Inc. – Toyota Tire Center P.O.P & Rebate Promotion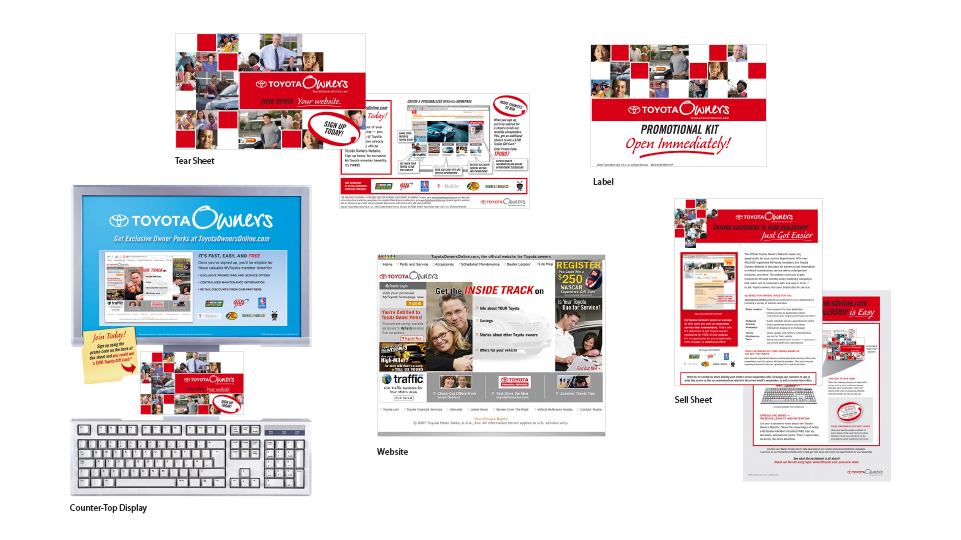 Toyota Owners Online was designed as the destination for all things Toyota, as far as lifestyle and information about the brand, to increase retention and create stickiness after the sale. This website was the first to feature "owner stories," which enhanced brand affinity. In just 2 ½ years, more than 2 million owners signed up to receive emails from the brand and increased ROI at the dealership by 15% among those registered on the site.
Toyota Motor Sales, USA, Inc. - Toyota Owners Online Consumer Website Launch—P.O.P. Kit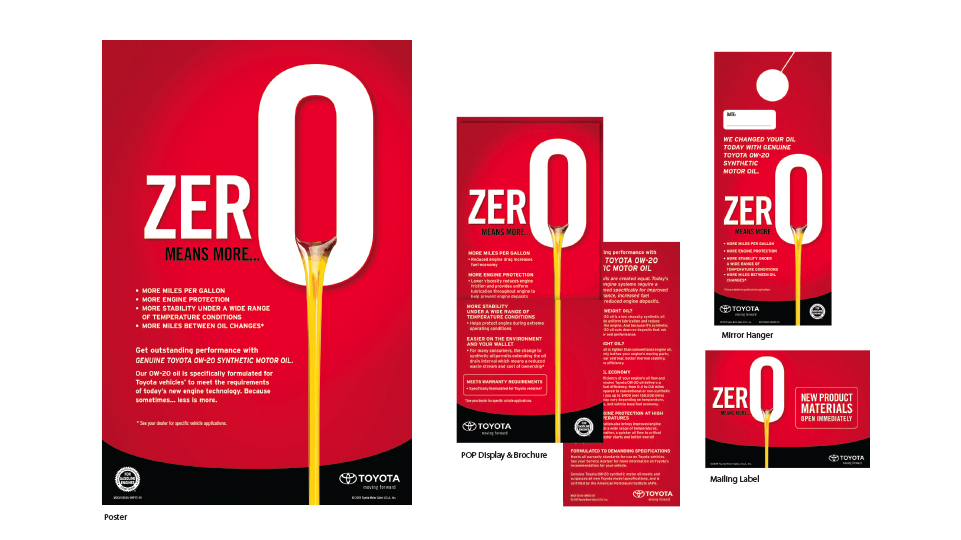 Creative Productions developed an motor oil promotion to educate consumers on why using the right oil makes a big difference in performance.
Toyota Motor Sales, USA, Inc. - Synthetic Oil "Zero Means More" Campaign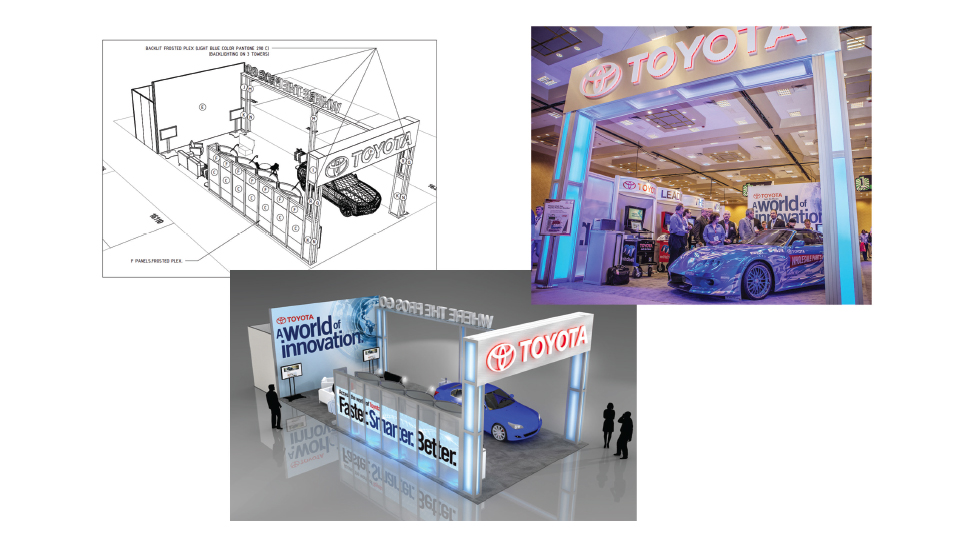 Creative Productions desgined and managed the Trade Show booth, graphics, technology and talent for this SEMA Show Launch.
Toyota Motor Sales, USA, Inc. - SEMA Trade Show Booth Design & Production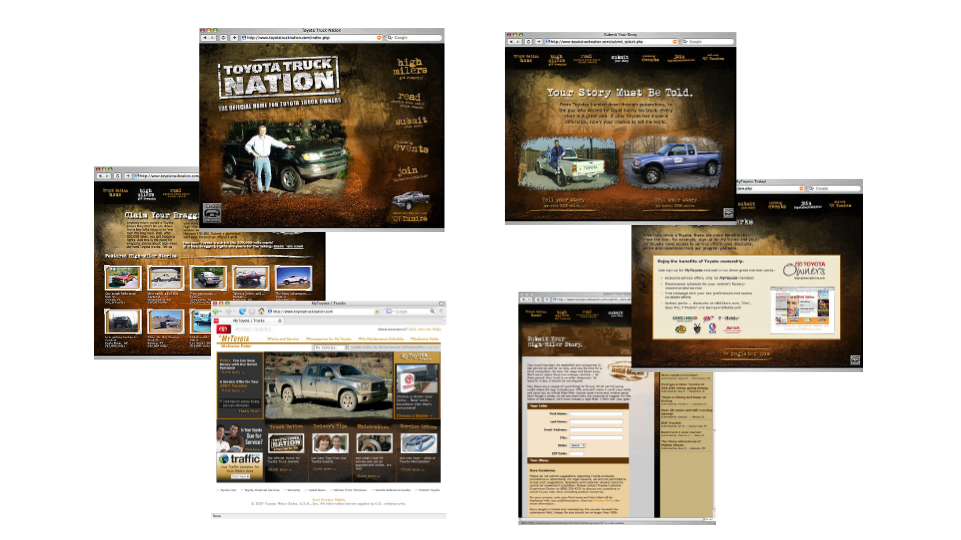 Toyota Motor Sales, USA, Inc. - Toyota Truck Nation Microsite
Timed with its Super Bowl launch, the website provided a place for consumers to share user-generated content about their affinity for the truck brand to help boost recognition as a serious contender in the truck category against the domestic truck brands.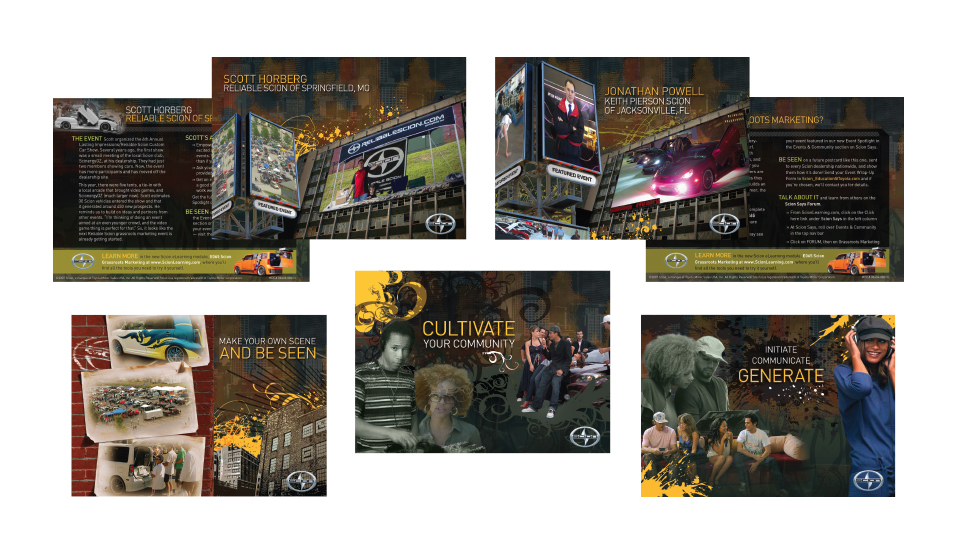 Toyota Motor Sales, USA, Inc. - Scion Grassroots Marketing Club Cards
Immersing dealers in the lifestyle of the customers they are targeting was a key objective of this multi-faceted dealer training program.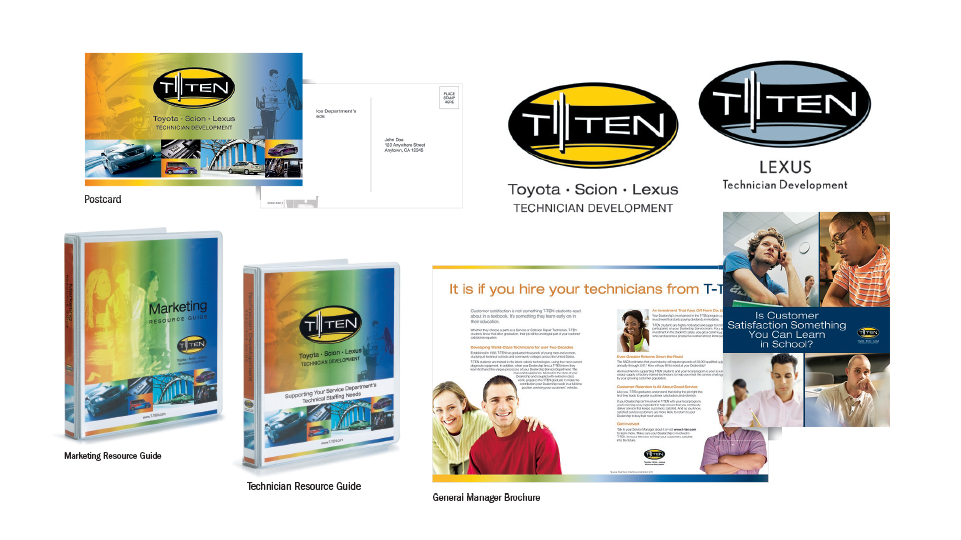 Creative Productions designed and refreshed the T-TEN brand to reposition a career in automotive repair from an old school mechanic to a high-tech professional. The new branding was promoted through print and digital campaigns to appeal to school counselors, students and parents.
Toyota Motor Sales, USA, Inc. – Technician Training & Education Network (T-TEN) Marketing & Recruiting Campaign